Reusable silicone vacuum bag for EVA/PVB interlayer glass laminating autoclave Mappi Lammiflex
Multi-use reusable vacuum bag systems is manufactured from high performance silicone rubber compound. It is high anti~tear type (ATSR) silicone rubber sheet, which is able to bear high temperature, high flexibility, inertia sufferance to avoid mucosity, bear oil & aging, anticauterization, innocuity and insipidity, which is an ideal material to make vacuum bag of glass laminating autoclave.
Silicone rubber vacuum bag is the key parts of glass vacuum laminating autoclave like Mappi Lammiflex, LiSEC laminated glass line. A complete set of vacuum silicone bag consists of an upper silicone blanket and a lower silicone blanket sheet. Each vacuum bag comes ready with a vacuum pipe. Upper and lower silicone membrane sheet's edges are glued with interlocking lock, to make sealed room for vacuuming. The interlocking of edges and corners is designed to locate and close with ease.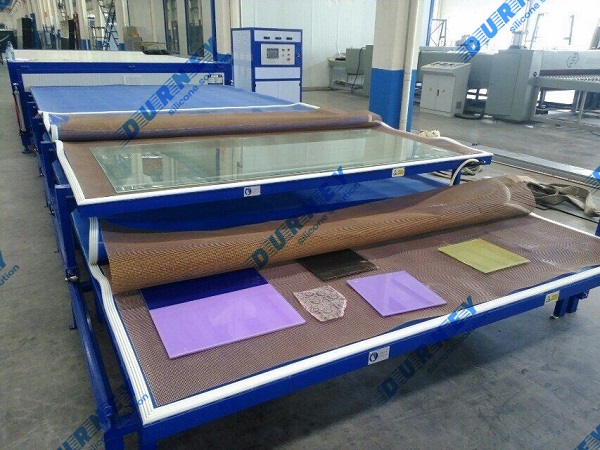 Components :
Upper silicone blanket
Lower silicone sheet
Interlocking silicone seal lock
Silicone tubes (ID/OD: 6/12mm)
Silicone nozzles
Common thickness 3mm (0.12")
Maximum width up to 3600mm (142")
Length as request
Technical Data Sheet

Temperature: 230 C
Pressure: 15 bar
Thickness: 3mm
Color: Blue
Application: EVA/PVB interlayer laminated architectural glass autoclave,
Reusable silicone vacuum bag for autoclave like Akarmak autoclave, OF.RA. SRL autoclave.
*Other grades and colors of rubber available
Sketch of Vacuum Silicone Bag
External dimensions means the outer length (5070mm)and width (2570mm) of silicone bag
Working area means the inner dimensions of silicone bag excluding the interlock seals, as photo below, 5000*2500mm
To avoid any confusion, we prefer the external dimensions, like 5070*2570*3mm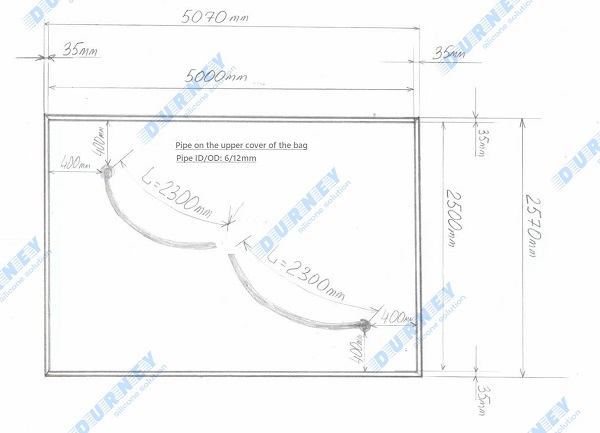 Benefits include:
• Reusable system saves time compared to traditional consumable lay up
• Decreased material waste
• Reduced risk of operator error
• Cost effective versus traditional consumables over the life of the bag
• Bespoke bags manufactured to customer's exact requirements
• Maintenance and repair service available
• Currently being successfully used at 15 bar autoclave pressure
• Supplied with 6mm (0.25in) BSP vacuum fittings as standard (custom fittings also available)
• Designed for use with traditional breather fabric or PTFE mesh
• A range of compatible vacuum hoses and ancillaries available
Why choose us
We have established good cooperative relationships with laminated glass furnace manufacturers and safety laminated glass manufacturers.
Various sizes of silicone bags that our overseas customer ordered before, for your reference