Silicone Rubber Membrane (Lami-5plus)
Durney, a leading manufacturer of silicone rubber products in China, specializes in the production of ultra-EVA resistant separators for solar photovoltaic panel lamination. In direct response to the specific needs of the solar industry, we have developed the latest generation of Lami-5plus silicone rubber membranes for solar laminators. It has good EVA resistance due to fluorine laminated layer and extra fabric reinforcement in the middle. As one of the premier silicone diaphragm suppliers in China, our expertise in high temperature silicone sheets has made us a valuable partner and long-lasting relationship with the solar panel manufacturer across the world.
Durney is working hard to strengthen and improve the production technology of solar panels around the world. With Lami-5plus, they have engineered a highly efficient solution to prevent EVA outgassing degradation, which has been adopted by top manufacturers of thin film and crystalline solar panels. Proud of what we have achieved so far, we are committed to further exploring our potential capabilities to create high-quality silicone rubber sheets for photovoltaic module encapsulation and bring more innovations to the solar panel industry.
Advantages
★ Thickness 3mm, 3.5mm or 4mm

★ Width max up to 3800mm without seam

★ Length can be customized

★ Made of 100% silicone rubber

★ Extended life more than 12,000 cycles

★ Excellent anti-ageing and acid & alkali resistance

★ High temperature aramid fabric inserted in the middle

★ Durability results in longer machine running times and thus shorter set-up times

★ Special FKM covering layer bonded onto silicone backing
Technical Data Sheet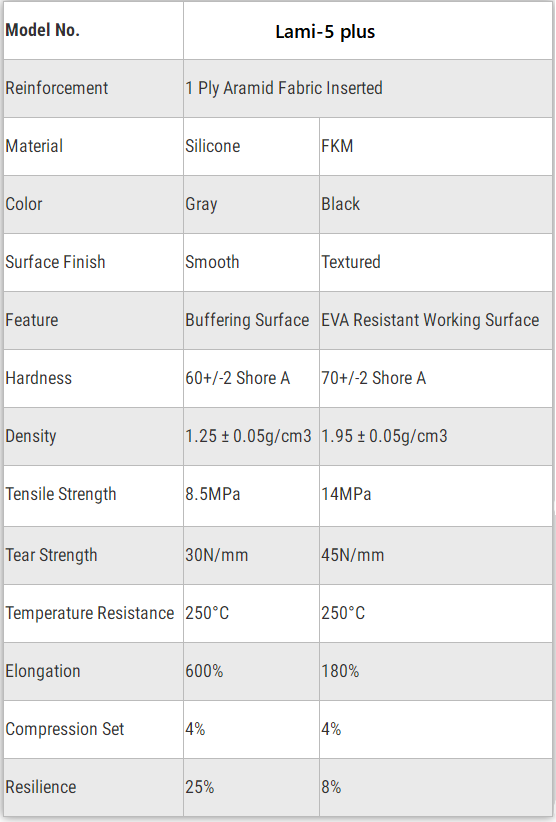 Structure
Lami-5plus silicone sheet is an extraordinary rubber sheet, a specially developed rubber membrane consisting of a silicone backing material and a unique elaster coating. The photo below is to give you a clear idea of its structure.
Layer 1 - Black EVA resistant FKM - working side
Layer 2 - 1 ply premium aramid fabric reinforcement
Layer 3 - Grey silicone - buffering side
The black covering layer combined with the gray silicone layer ensures good EVA resistance and good life cycle performance even in the most critical applications.
Silicone Membranes For The Solar Industry
DURNEY– China leading manufacturer for silicone rubber membranes for solar PV module encapsulation in the renewable energy industry. We can choose from a variety of laminator brands and types. Depending on the solar module production line requirements, our silicone membranes are specially designed to fit many brands of solar panel laminators like Spire, Burkle, NPC, Meier, 2BG, Ecoprogetti, 3S, Komax, Electro Solar, Spaleck-Stevens, Nisshinbo, P-Energy, Mondragon, Boostsolar, Orient, ZST, Jinchen, SC laminators and etc.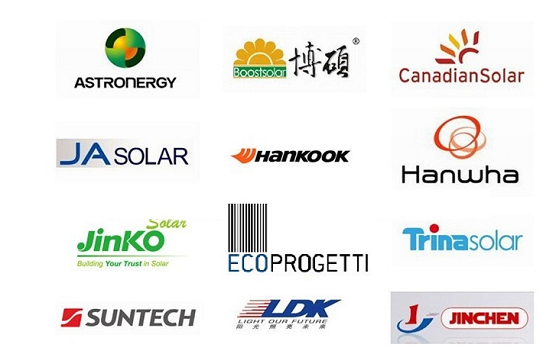 Solar Silicone Sheet FAQs

Are you wondering if silicone rubber membrane is the right choice for your project? Our team is available to answer any questions you may have before submitting an official inquiry. We've compiled a list of the most common Frequently Asked Questions on the right to help you to make your own decision.
Can't find the answer? Reach out to our customer support team.
1. What is the thickness tolerance of solar silicone sheet? And which side of silicone sheet is the working side?
(1) Silicone membranes are made in a drum-type rolling vulcanizing machine, the international thickness tolerance is ±0.2mm.
(2) During the process of solar panels lamination, gray side is the buffering layer, while black side is the EVA resistant working layer. So the black side contacts glass of solar module. Besides teflon conveyor belt is in between. Please see the photo taken from customer's factory.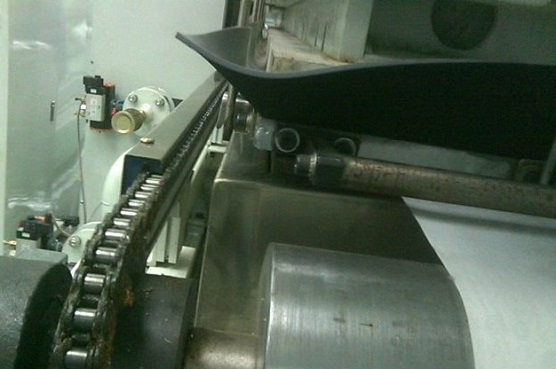 2. What's the best silicone sheet for solar modules lamination?
It depends. There is 100% correct answer for everyone. There are many determining factors that can affect the choice of silicone sheets, such as type of encapsulant, the composition of the modules, size of the modules, a brand of laminator, and budget constraints, etc.
3. How long should a silicone lamination sheet last?
Commonly our data shows that the Lami-3 – 6,000cycles and the Lami-5plus – more than 12,000 cycles. As there are a number of variables beyond our direct control, it is very difficult to guarantee exact cycle life.
4. Does color or surface finish have any impact on the silicone membrane's performance?
Based on feedback from many solar panel manufacturers worldwide, we can see no advantage or disadvantage of different colors, or indeed surface finish. Actually, colors are now used to differentiate between suppliers. To be honest, most customers prefer to place an order after testing some samples.
5. What can you explain more about the cycle life of a silicone sheet?
It can be variable as there are many factors outside of control. The improved performance of the material offers the potential for significant improvement, depending on the operating conditions.
6. What is the max. width and length of silicone rubber sheet for solar panel laminator?
Max. width up to 3.8m. Max. Length up to 30 meters. Common size as follows, 4mm * 3050 * 4850, 4mm * 3200 * 5200, 3mm * 2755 * 4925, 4mm * 2700 * 4500 and so on. Usually, the silicone rubber sheet can be made according to the customised size.
7. What is the EVA outgassing?
Outgassing (sometimes called offgassing, particularly when in reference to indoor air quality) is the release of a unwanted gas generated from the melted EVA interlayer during the process of lamination of solar modules. These acidic fumes can lead to corrosion of the silicone rubber diaphragm/membrane, which manifests itself in surface degradation (cracks) , excessive stretching and sagging.
8. How can we tell the difference of Durney solar silicone sheets?
Durney now developed 2 types of silicone membranes for the solar modules laminator. Please check or download below technical data sheet for your further reference.
At last, you might be also interested in the another types of solar silicone rubber membranes from us.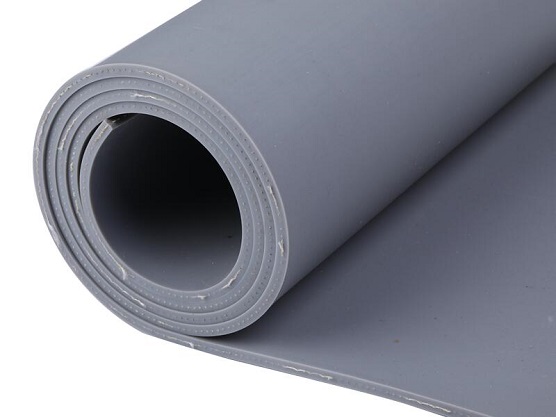 Lamin-3 Silicone Rubber Sheet For Solar PV Panels Laminating Machine